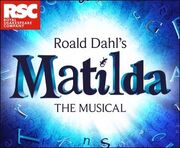 Welcome to the Wiki

[

]
Matilda the Musical is a British Musical based on the book by Roald Dahl. The show first became to be in Stratford Upon Avon before transferring to the West End, Broadway and in 2015, Australia.
Latest News

[

]
Lara McDonnell, Anna-Louise Knight and Lizzie Wells will be taking their last shows over the Next two Months.

Zaris Angel Hator, Clara Reed and Emily May Stephenson will be taking their first shows this Month
Happy Trails!

[

]
This month we say goodbye or have already said goodbye to some great actors and actresses from both productions.
On 1st and 2nd March, on Broadway we said farewell to Gabe Ebert, Jack Broderick, Emma Howard, Frenie Acoba, Judah Bellamy and Erica Simone Barrett. Soon, Jared Parker will be leaving his role as Nigel.
Over the past 2 months, Elise Blake, Georgia Pemberton and Cristina Fray finished their runs as Matilda on the West End. We now welcome Tasha Chapple, Cara Jenkins and Lottie Sicilia.
Featured Pages

[

]
Did you know?

[

]
Videos

[

]